Here's How ICOs Advanced Crowdfunding.
Prior to token sales, the presence of tech startups was heavily confined to a few developed countries. With the rise of smart contracts, the means to offer cross-border funding to projects with strong propositions became a reality. ICOs have funded incredible projects that are based across the globe; this has given anyone anywhere the opportunity to pursue a betterment of society through technological advancement irrespective of the limitations his/her birthplace may place.
However, not everything is rosy.
An Abused Opportunity
Initial coin offerings are an incredible opportunity for visionaries across the world. During the first quarter of 2018, billions of dollars were raised through ICOs and it had seemed as if venture capital could truly be decentralized.
However, as some people began to abuse the goodwill of token buyers and began to execute mass-scale scams through token sales, justifiable fear and uncertainty plagued the market. The consequence of this was that the ICO market almost dried up by the last quarter of 2018. In an effort to recover the token sale market, the leading cryptocurrency exchanges have launched initial exchange offerings (IEOs).
While ICOs did enable a market where fund raising was more accessible than ever before, they were short-lived due to the very nature of how open they were. IEOs became the natural follow-up; one that limited access to only those projects that passed preliminary vetting of the exchange. This reduced the security risks associated with token sales. While the market may have evolved, its fundamentals have not eroded: IEOs retain the ease of funding access that was offered by ICOs. Now, the bar is simply higher than before as exchanges often demand a minimum viable product and some proof of a genuine community presence. The opportunity for visionaries is still there but they simply have to put forth more initial effort than before. This naturally has a higher effectiveness at wading off the scams.
Evolving Other Forms of Crowdfunding
While token sales have been arguably the most successful form of crowdfunding to date, not all products can integrate a utility token. This limits the kind of projects or ideas that can leverage the advantages of token sales.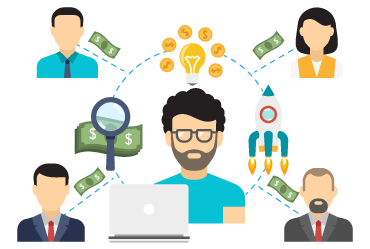 Projects that cannot integrate a utility token rely on traditional crowdfunding via early bird discounted product sales on platforms like Kickstarter and Indiegogo.
Fundraising on such platforms, however, hasn't evolved much. Crowdfunding on most of the popular fundraising platforms is easily accessible; this carves the platform users into two groups: those that are understandably overly cautious and thus skip on possibly great products due to sheer worry, and those that take a chance far too often and end up getting scammed.
For these in former group, the market is unable to reach equilibrium as those who recognized utility in a product avoided simply due to legitimate concerns drawn from the lack of security of the platform; those in the latter group end up as victims. Thus, there's a clear need to advance the crowdfunding economy. While the smart contract benefits of blockchain technology cannot be delivered products that do not aim to leverage utility tokens, other aspects of more advanced protocols can be leveraged to make crowdfunding safer even for projects that aim to raise capital through early bird sales of products.
A new crowdfunding platform called PledgeCamp is aiming to deliver protocol in which the staking aspect of novel consensus mechanisms can be tweaked and integrated into project launch executions. Each project is divided into milestones and the funds allocated by backers are distributed across milestones. If a project founder delivers a stake that matches the first milestone, project backers face no risk as the escrowed funding is only released once backers approve product progress.
In case a project turns out to be a scam, the founder's staked funds are issued to the backers; in case it is legitimate, escrowed funds are released to the project founder as milestones are cleared.
This Article was first published here on https://steemit.com/blockchain/@hatu/here-s-how-icos-advanced-crowdfunding