NOIA Network on KuCoin! Trading time: 18:00 on July 22, 2019 (UTC+8)

We're so close! All your support and our team's hard work is about to materialize in yet another significant and important way. NOIA Network will finally become an officially listed project.
We at NOIA want to assist you in the preparation for our upcoming listing on KuCoin. Therefore, I'll be sending you a few emails which will guide you through the process and provide you with information that might bring you additional value.
Listing time
The trading of NOIA Network token will follow this schedule:
Deposit: 16:00 on July 22, 2019 (UTC+8)
Trading: 18:00 on July 22, 2019 (UTC+8)
Withdrawal: 18:00 on July 24, 2019 (UTC+8)
Better do it today – register on KuCoin in advance of the listing.
---
Official KuCoin announcement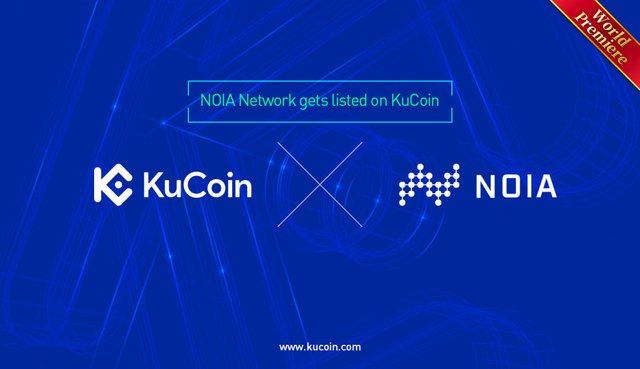 Get acquainted with the official KuCoin announcement on the listing of NOIA Network. It contains all the details you need to know before our token starts trading. A concise summary of how the project started and what we've achieved over the course of our journey is also included.
View the official KuCoin announcement
Benefit from the momentum
The NOIA token Launchpad on Cobak closed in 15 seconds! Such support and attention right before our KuCoin listing was exactly what we needed. Knowing that our community is standing strong right beside us proves us that we're on a right path.
---

We've created this program to reward both our long-time community members and the ones that are planning to support us from the start of our listing on KuCoin. If you happen to be one of these supporters, the opportunity to gain significant additional rewards is yours.
The program consists of 3 tranches of rewards. They are based on the minimum amount of NOIA token holdings (net buying volume = buying – selling volume) you have at the time of the snapshot which will take place on August 12, 2019. Meaning, you'll have up to 3 weeks from the day of the listing to build up your NOIA token holdings and reach your desired reward tranche.
And the rewards?
5 months of a fixed amount of NOIA token airdrops straight to your KuCoin wallet!
One important message for all node runners!
We would like to remind that you're eligible to participate in the program with all the NOIA tokens you've accumulated while running a NOIA node. Applying these tokens may help you reach a higher reward tranche!
How can I participate?
---
The time to join our community is just perfect!
We're waiting for you on our Telegram group where you'll be able to win additional token rewards by participating in our community activities such as NOIA educational program, NOIA content challenge and NOIA discussion challenge. Join in!
Best,
Domas
Source: https://noia.network/