UpBots MVP Review: All-in-One Trading Platform & Marketplace for Algorithmic Traders
Upbots, a well-anticipated trading ecosystem, is readying the official public deployment of its trading platform. As part of the FTX staking program, UBXT stakers have already had the chance to test out the advanced interface.
UpBots MVP platform is a game changer
We had an early preview of the platform and it was easy to see why their IEO was oversubscribed in just 90 seconds. The UpBots team has delivered on their vision with their design and execution of various features being quite exemplary.
There is nothing like UpBots MVP in the space currently as the existing platforms only offer a few tools that can only be used on a limited number of exchanges and wallets. UpBots has both basic and powerful advanced trading tools that can be used by novices and seasoned crypto traders.
UpBots MVP tools can be easily integrated with multiple wallets as well as centralized and decentralized exchanges thus facilitating seamless trading experiences. Traders can easily connect their wallets and exchange API keys by editing a few fields on their user profile located on the dashboard.
We had first-hand experience interacting with multiple tools on the UpBots MVP during our review and were particularly impressed by these exceptional features and recent developments.
UpBots MVP Review
User Interface
The UpBots trading platform has a sleek design that is both aesthetically pleasing, highly interactive, and quite functional thus providing a pleasant user experience. The dashboard, also doubling as the home page, epitomises this design with a clear layout of all functions for easy accessibility. There are quick-access buttons to help the user to easily view balances on connected wallets and exchanges, active bots, and rented algorithms. This all-in-one interface allows users to perform multiple functions directly from their dashboard.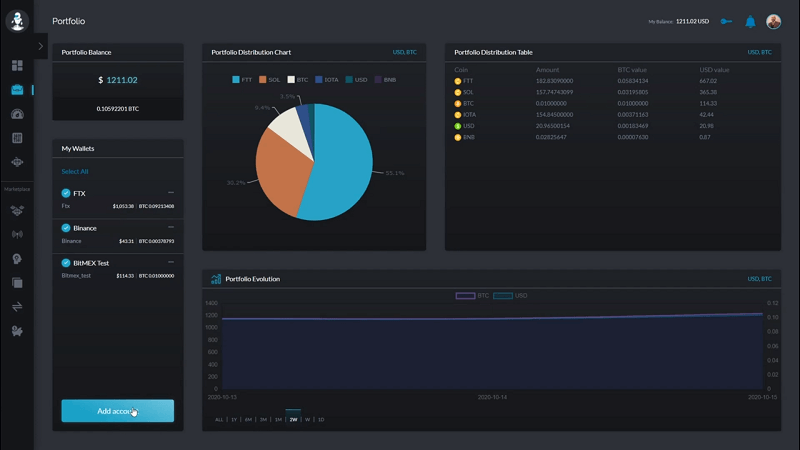 Portfolio and Performance Management 
UpBots has powerful, advanced tools that enable traders to keep track of their portfolio across different exchanges and wallets. The intuitive management interface allows them to monitor the evolution of portfolio with real-time updates on crypto balances on all connected platforms. Currently, this feature supports the Metamask wallet and Binance, FTX and BitMex cryptocurrency exchanges.
Development of the UpBots performance tracker is ongoing and once completed it will facilitate multiple functionalities and make trading on exchanges much simpler. It will allow users to launch manual trades on connected exchanges from their UpBots interface. Moreover, it will help users align their trades with market sentiment by reviewing the order book at the bottom of the page.
Bots
Perhaps the most exciting of all features is the trading bots that traders can easily access on their interface. The UpBots is looking to release and develop their own set of bots, with deferring functionalities, that will be made available for use by traders to help them define their strategy much better.
We got to test drive the bots (of course), by connecting to a BitMex testnet account, and they are quite simple and super fun.They are activated/deactivated by simply clicking the button beside each. Traders need to set the parameters for each field such as entry and exit points, alerts, take profits and stop losses then leave the bot to trade for them. Super cool, right?
What's even more exciting is that users will be able to create their own bots through a simple five-step guided process. This feature will be available once an upcoming major release is deployed on the UpBots platform by before the end of the year.
Marketplace 
UpBots has developed a marketplace for trading of bots and algorithms. This will be quite useful for new traders as they can lease proven algos and bot to trade for them.
Initially, only those developed by UpBots and their partners will be available with the marketplace opened up for users to sell and rent out their bots and algos in the future. UpBots is deploying performance-based safeguards to protect its users with fees charged only when they earn profits by trading using leased bots.
The building continues at UpBots with even more exciting features like signal providers, copy trading, power swaps, and staking under development and scheduled for an early 2021 release.
Launching Algo Bots
As the name suggests, Algo Bots are an inherent part of UpBots' value proposition. By leveraging these bots, customers can essentially unlock a hands-free trading experience that's not only trustworthy, but also profitable. UpBots is now launching the first version of Algo Bots. Customers will be able to rent, build, and access signal bots via the platform's marketplace.
Regarding Algo Bot rental, UpBots has opted for a performance-based fee schedule. In other words, users will only pay the rental fees if the bots prove themselves as successful. This serves as an incentive for builders to only create top-level bots that can efficiently carry out trades according to smart predetermined parameters.
Those who are not keen on renting out bots developed by other users should know that UpBots facilitates seamless bot creation through its simple development interface. Bot builders are not required to hold knowledge on programming languages. Rather, Algo Bots can be configured by clicking through a number of options.
Indeed, a thought-out trading strategy is required, but builders can definitely experiment until they figure out an appropriate approach to bot development. This function has not yet been released, but it'll be available within the short-term future.
Last but not least, UpBots also provides a signal marketplace. Through this feature, beginners can apply tested trading strategies developed by advanced traders. An Algo Bots integration will allow the algorithm to essentially follow signals provided within the marketplace. A quality-assured release for this feature is set for 2021.
Readers should bear in mind that this early-release version of Algo Bots is only available to customers who are involved with the FTX staking program. To access Algo Bots, staking participants must connect their UpBots account to the FTX exchange, using the designated API key.
New stakers will receive an Algo Bots activation code two days after making the UpBots – FTX account connection. Apart from unlocking access to AlgoBots, FTX stakers can access a series of other lucrative rewards.
Conclusion
UpBots MVP is a one-stop-shop that brings together all the tools that the modern trader needs to navigate the highly volatile crypto markets. The manner in which the UpBots team has managed to bring all these features under one platform is quite extraordinary to say the least. They have combined multiple tools used by market makers, institutional investors, and day traders among other players on a single platform thus providing a holistic ecosystem for both new and experienced traders