YOM brings Metaverse Mining to the Masses with MEXC Listing
YOM (Your Open Metaverse) is excited to announce its initial token listing on MEXC, one of the leading cryptocurrency exchanges.
The listing will take place on March 15th at 10 am UTC, coinciding with the project's soft launch and providing it with exposure and liquidity.
Introducing YOM
YOM is the peer-to-peer metaverse infrastructure that allows professional artists, agencies and studios to create, deploy, and manage custom Web3 metaverses with ease and at scale. The platform enables creators to embed their own metaverses on any website with just one line of code, making them instantly accessible from any browser on any device.
Key Issues in the Metaverse Landscape Today
YOM's focus on both interoperability and quality is what sets it apart from other metaverses. Today's metaverses are either highly interoperable (e.g. Decentraland) or offer a high-quality experience (e.g., Steam). YOM bridges this gap and makes it easy to deploy and manage professional web3 metaverses that are highly integrated within bespoke use cases; they also render at high performances and quality at scale across all devices, an unprecedented feat in the industry.
Use cases include Web3 virtual concerts featuring thousands of players from various devices in high quality environments, from Formula 1 races where players try to win on television in real-time to acquiring prizes, such as NFTs.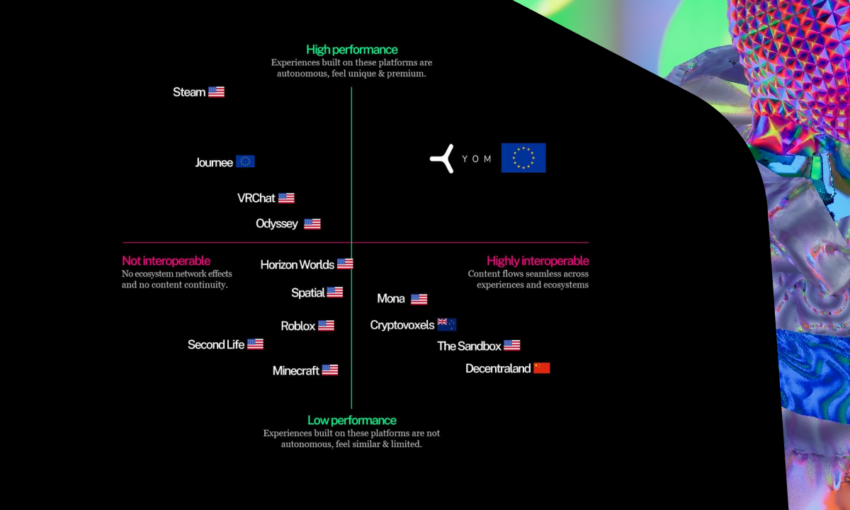 $YOM Token Utility
To achieve its ambitions, YOM tokenized the right to render the metaverse with its $YOM token. The $YOM token creates an end-to-end market for GPU power, where gamers earn tokens by rendering metaverses. This incentivizes gamers to participate in rendering the metaverse while also combating the inefficiencies and scalability issues associated with existing cloud rendering solutions.
YOM's expertise in developing and commercializing professional solutions using Unreal Engine and other relevant technologies has attracted significant interest from professional metaverse artists and agencies, with over 20 agencies already building on the YOM platform.
Why YOM Chose MEXC for its Token Listing
YOM's decision to list its token on MEXC marks a significant milestone for the platform, as it will gain access to a reputable cryptocurrency exchange with a global user base. MEXC is committed to providing safe and secure trading services, along with a range of resources to help users make informed trading decisions. This listing is expected to be a major boost for YOM and its community, as it provides exposure and liquidity on a reliable platform.
This article is originally from BeinCrypto highlighting YOM Initial Exchange Listing On MEXC